Promoting Better Health
and Vitality!
gramma's cure tea - 20% OFF!
This herbal blend is known to remove toxins from the liver and blood. Rooibos is the main herb, it is caffeine free, and very rich in antioxidants and minerals. Ingredients: Rooibos, Red Clover, Dandelion root, Burdock root, Orange peel, Stevia.
Good through the end of October
Essiac Tea - 20% OFF!
Historicaly, Essiac Tea has been used for cancer, diabetes, detoxification, immunity, or a general health tonic. The herbs in this tea have been used as food for generations. Ingredients: Burdock root, Sheep sorrel, Slippery Elm, Turkey Rhubarb root.
Good through the end of October
ginseng tincture - 20% OFF!
Historically, ginseng has been used to boost energy, lower blood sugar and cholesterol levels, reduce stress, promote relaxation, treat diabetes, and manage sexual dysfunction in men. Ingredients: Panax quinquefolium root (American ginseng) in food grade alcohol.

Good through the end of October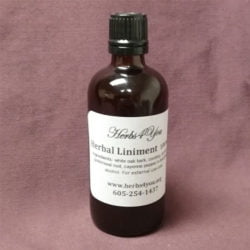 herbal liniment - 20% OFF!
An old-time favorite, this liniment is a strong antiseptic and has been used for: painful swellings, bruises, boils, skin eruptions, athletic foot, rheumatism, bee stings, boils, cold sores, Dandruff, insect stings, lice.  

Ingredients:

Oak bark, Comfrey leaf, Myrrh gum, Golden Seal in food grade alcohol. 
Good through the end of October

High Quality
We provide only the highest quality herbal products.
Natural
All of our health care products are the best natural remedies available.
Time-Tested
Our certified herbalists have personally tested our products.
A Lifestyle of Vitality
We want to do more than sell herbs and herbal supplements. Our goal is to teach you, and enable you to learn healthy ways, so that you and your family can enjoy better health and vitality.
Basic Herbalism Course
The Course Basic Herbalism is an excellent introduction for the beginner and intermediate herbal student. It is designed to empower you with the knowledge and confidence necessary to handle health challenges in a more holistic manner.
WHOLE FOOD NUTRITION: JUICE PLUS+
Juice Plus+ contains juice powders from 30 fruits, vegetables and grains that offer whole food based nutrition, which is the core concept behind Juice Plus+ Research that shows Juice Plus+ can lead to a healthier lifestyle.
Aronia, also known as chokeberry, is native to South Dakota and the Midwest.  It grows from a shrub and is in the Rosaceae family. It is most commonly found in wet woods and swamps.  Aronia berries contain higher levels of antioxidants, ployphenois, and anthocyanins...