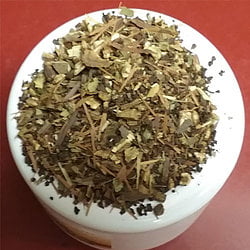 This month, I am introducing several of our delicious healthy teas.  One that has become a favorite for me is our Good Morning Brew, which can take the place of coffee.A nice cup of hot coffee is a a hard habit to break, yet it is detrimental to our health.  Coffee is acidic and hard on the kidneys, heart, and adrenal gland.  So, I put together this great alternative.  I like it with cream and honey.  Here is a run-down of the herbs in it.
Chicory Root is often used for a coffee substitute, but it also has a wealth of health benefits, such as: the ability to ease digestive problems, prevent heartburn, reduce arthritis pains, detoxify the liver and gallbladder, prevent bacterial infections, boost the immune system, and reduce the chance of heart disease. It is also a natural sedative, and can protect against kidney stones, and benefit attempts to lose weight.
Burdock Root is a blood purifier and has been used to neutralize and eliminate toxins in the system. It is one of the best herbs for chronic skin problems. It increases flow of urine, and is excellent for gout, rheumatism, canker sores, syphilis, leprosy. Can make a salve and apply externally for skin eruptions, burns, and wounds.
Dandelion Root is a great herb for the liver, as it increases its activity and helps to detoxify it. Dandelion root also increase the flow of urine and is slightly laxative. It has been used to aid digestion, and is useful in all kinds of kidney trouble, diabetes, dropsy, and inflammation of the bowels, and has beneficial effect on female organs. 
Pau d'arco has a detoxifying effect on the whole body. Toxins are eliminated, blood vessels, the lymph system, cells, tissue and organs are all detoxified. It is anti-inflammatory, inhibits Candida albicans, prevents colds and flu, is a blood purifier, stimulates production of red blood cells, has strong antioxidant properties, is a  powerful anti-fungal, anti-bacteria,l anti-microbial, fights parasites, accelerates healing of skin wounds, and strengthens the immune system.
Yerba Mate is a nutritional powerhouse loaded with vitamins, minerals, and antioxidants. It also contains other beneficial phytonutrients such as tannins, trace minerals, chlorophyll, flavonols, polyphenols and 15 amino acids. Immediate benefits of yerba mate are increased energy and enhanced mental clarity, alertness, focus, and concentration.
With these great herbs, why not try some Good Morning Brew!
We're Here to Help YOU!Amy WillisYour local herbalist